Free Rejsekort for newcomers
If you just moved to one of the municipalities below, you can get a Rejsekort (travel card), and travel for free with public transportation for two months. This gives you plenty of opportunity to see your new municipality and the experiences and attractions it offers.
The following municipalities offer free Rejsekort:
 > Billund
 > Esbjerg
 > Fredericia
 > Haderslev
 > Kolding
 > Varde
 > Vejle
This offer will run for a trial period throughout 2023.
You order the card by filling in the form.
Please note! There can only be ordered 1 card per household
Read more about the offer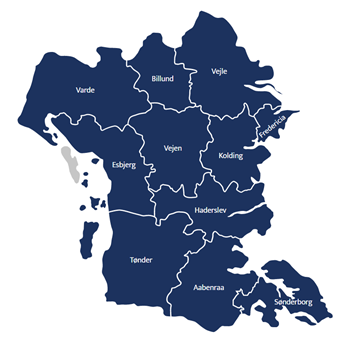 Who can get a newcomer card?
Anyone who has just moved to the municipality can order a card within the first 3 months.
One free travel card is given per household
The card can be used by everyone in the household, but only gives free travel to one adult at a time. However, this adult can bring two children under 12 for free.


What does it cost?
You get it at a special welcome-to-the-municipality price - it's for free.
There is no registration fee and your travels by public transport are also for free.


Where is the card valid?
The card is a special travel card that gives access public transportation for free.
This applies throughout Sydtrafik's area, which stretches from the German border in the south to Varde, Billund and Vejle Municipality in the north.
The card is valid for travel on all Sydtrafik buses, as well as Arriva trains in the municipalities of Tønder, Esbjerg and Varde.
It is valid for 2 months and the period starts shortly after you receive it by mail.
You use the card by checking in at the card reader with the blue spot on the bus or at the station.


Travel regulations
You can read more about the rules for traveling by public transport on Sydtrafik's website.
Alle fields marked with * are mandatory and must be filled